The metaphorical phrase 'finding a needle in a haystack' has be used on much more than one occasion to describe how researchers can feel when they are searching for manta rays. Around here, one might even go as far to consider them somewhat of a 'unicorn of the sea' – since most Kiwis have not seen this species in New Zealand waters.
Featured image: An oceanic manta glides gracefully through the water with a MiniPAT satellite tag on its back. Photo credit: Edy Setyawan

Introducing the Oceanic Manta Ray
Mobula birostris – the largest ray species in the world, reaching up to 7m wide – are found in tropical, subtropical and temperate waters. Oceanic manta rays are typically observed in our waters in the summer months, from November to June. The Hauraki Gulf, Tīkapa Moana – Te Moananui-ā-Toi, is considered one of New Zealand's oceanic manta ray hotspots, with more manta rays having been spotted in the waters between Hauturu (Little Barrier), Aotea (Great Barrier), Hen and Chicken Islands, and the Mokohinau Islands, than anywhere else in New Zealand!

Manta rays in the Hauraki Gulf
Researchers have noticed that the most extensive manta activity in NZ is occurring in the Outer Gulf. Numerous sightings of large feeding aggregations, which have not been recorded in other parts of the country, provide an indication to researchers that there is something quite special about Tīkapa Moana – Te Moananui-ā-Toi for these typically solitary creatures to gather.
Manta rays are solitary most of the time but choose to socialize when there is lots of food – which provides further evidence that the manta rays are gathering here to feast on krill. After foraging time however, manta rays seem to go their separate ways, and the mysteriousness of their lives persists.

Manta Watch New Zealand (MWNZ) is a multifaceted research project which collates data from a variety of sources and enlists the help of citizen scientists to report manta sightings. For this article, Lydia Green (founder & project leader) and Edy Setyawan (PhD candidate at the University of Auckland & project advisor) provided some details about their recent observations of mantas in the Hauraki Gulf.

The Power of Technology
Manta rays have unique marking or spot patterns on their undersides or bellies likened to a 'fingerprint'. Cataloguing images of these markings makes it possible to differentiate between individuals. Scientists use these photographs to compile ID databases, which enable individual manta rays to be tracked over time, to find out if they visit the same places year after year or are re-sighted in other regions. This is where members of the public help to play a big role! Anyone that can contribute an ID photo aids in the growing research efforts. MWNZ's citizen science program has gained traction of late and has really helped momentum of the project. It sometimes feels like a "massive game of hide and seek" says Lydia Green, so having members of the public contributing with their photos massively helps with re-sightings!

There were two exciting re-sightings so far this year – a female recorded at the hotspot on 21st February 2021 was spotted again on 23rd February 2022. This year she was recorded less than 2 nautical miles from where she was seen a year ago, once again feeding with other manta rays. This gorgeous female's ID is 'ROCKY', named after University of Auckland senior lecturer and relentless advocate for the marine environment, Professor Rochelle Constantine! This re-sight of Rocky is exciting new evidence, indicating a high level of site fidelity to foraging grounds. Furthermore, Rocky was tagged this year by Mark Erdmann using a Wildlife Computers' MiniPAT tag. Now we will see if Rocky leaves New Zealand waters and then returns to the same place around the same time next year.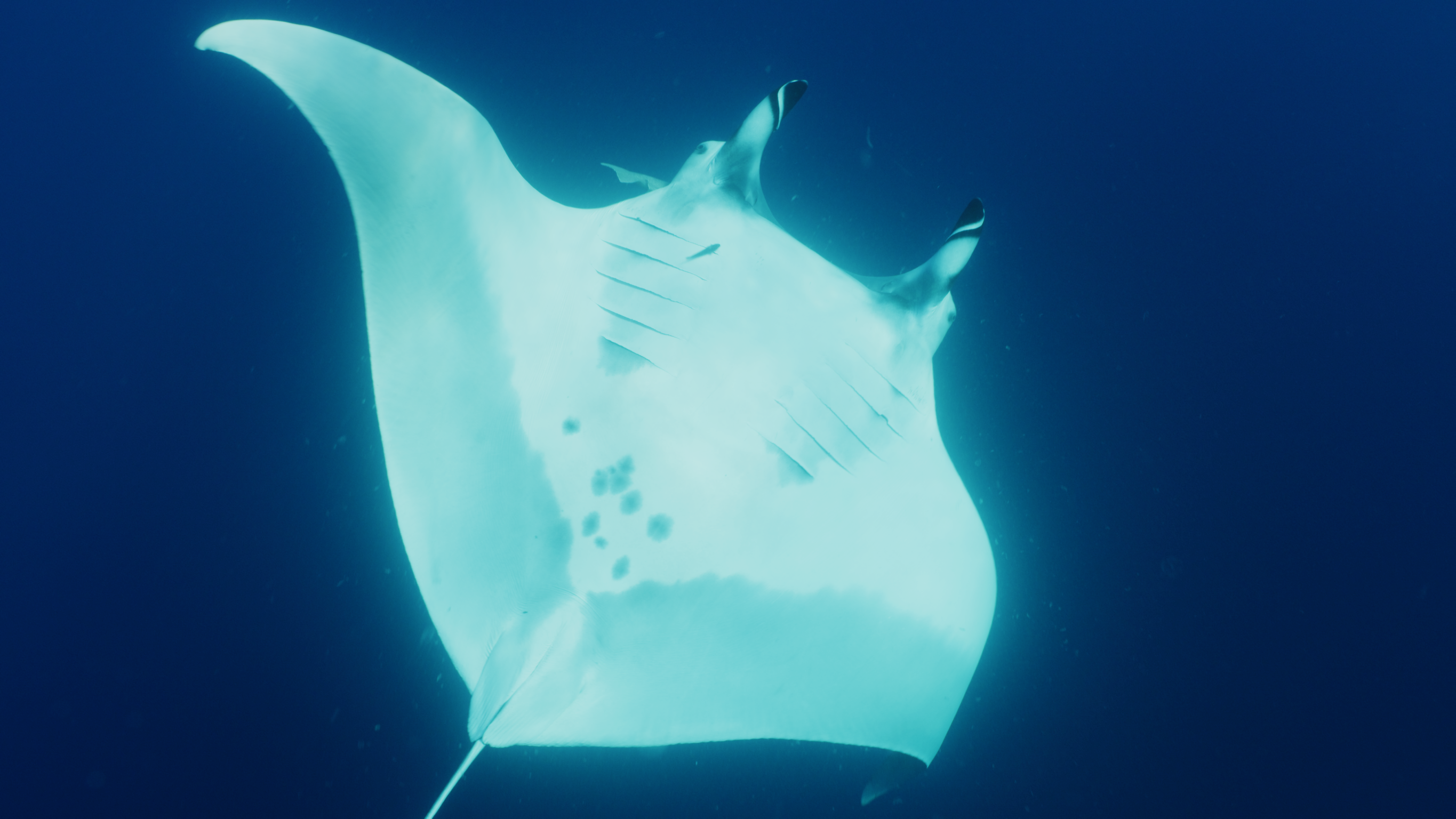 The other recent re-sighting was a female too; 'EMMY' was the first manta tagged in NZ and the first re-sighted. The recorded track of Emmy showed she visited the Southern Lau group (Fiji) over winter and was re-sighted near Grouper Rock (Hauraki Gulf).

Collecting manta belly 'ID shots' used to be the job of someone in the water nearest to the manta – but recent advancements mean that drones can be used to collect photo IDs of manta rays too. Lydia and Edy reiterated that there's so many benefits to using drone technology; one particularly important reason drones are great is the safety factor. It's far less risky collecting ID images via drone technology – so much so that Green reckons it has "revolutionized how we collect data here." Utilizing drone technology has enabled MWNZ to grow their ID database exponentially and using the methods outlined in this brand new research, researchers can also accurately measure the manta rays without even getting in the water.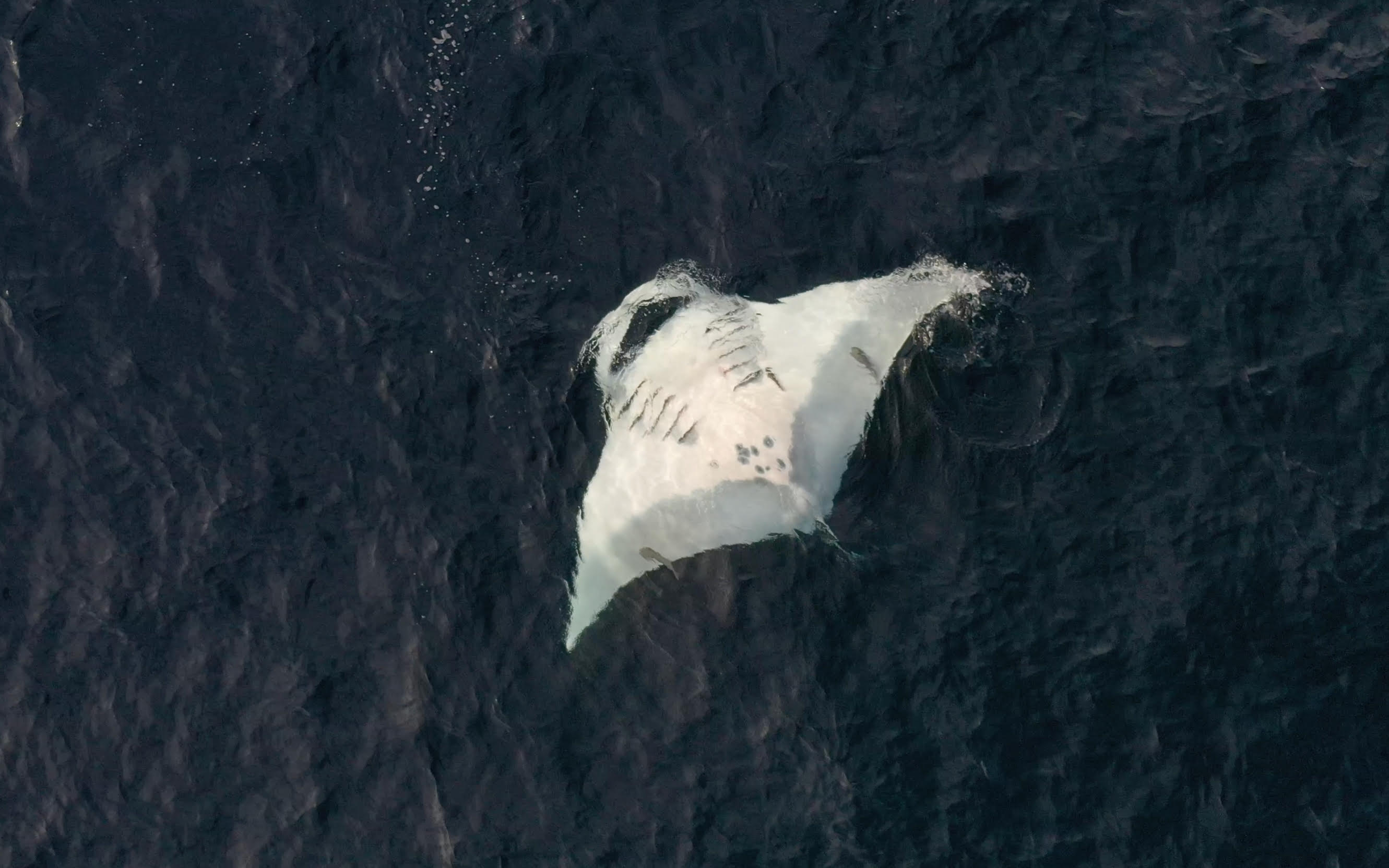 Tagging and Tracking
Until recent years the whereabouts of manta rays in New Zealand was largely a mystery. Evidence from some early sightings was published in 2003 and amongst this was the first photographic evidence confirming the occurrence of M. birostris in New Zealand waters. While there hasn't been any recent publications of manta distribution yet – the MWNZ team is working on a publication to update the research world on the manta whereabouts around here!

What we know about manta movements now has a lot to do with technological advancements that make it possible for scientists to track individuals – 18 satellite tags have been deployed so far, 10 of which were deployed this summer. These tags actively send back location information and reveal the individuals whereabouts for as long as the tag stays on (depending on the type of tag used, deployments are programmed to last 3 to 12 months, tags then pop off the manta and float to the surface). The successful tagging of several mantas spotted in NZ waters is the product of work by five different organizations and many individuals, highlighted in a recent NZ Geographic Article.

Big thanks to the individuals and organizations which have supported all the manta research written about here. Manta ray sightings data has been collected and compiled by Manta Watch New Zealand, by team leaders Lydia Green, Mark Erdmann, Edy Setyawan and many others. Key tagging project partners: the Department of Conservation, Conservation International Aotearoa, the University of Auckland, Manta Watch New Zealand, and Tindale Marine Research Charitable Trust.