Once MAD always MAD: This was the motto we spoke and not lightly as we truly knew in that moment that we had become part of a larger network of like-minded environmental leaders – a family.
We had woken up before dawn in anticipation of the next four days. Bright eyed and ready to inspire and be inspired we gathered under The Cloud. After a pest check, we formed a bag chain connecting not only the bags but also each other.
After loading up supplies and our luggage, we took our last steps on the mainland for what would be 3 action packed days. Motutapu was the perfect depiction of serenity. Welcomed to the island with a pōwhiri; deeply immersed in bird song and peaceful waiata, we reflected on the natural and cultural history of the magnificent 178 million-year-old Island. Tim Lovegrove trailed at the back with the keen observers; spotting endangered Shore Plover.
Arriving at the camp, we were greeted by dotterel, and elusive Takahē described as Pukeko on steroids. Upon dusk, far from the light effluence of downtown Auckland, we clambered up a nearby hill and took in a completely different night sky; taking turns to spot our star signs, and teaching each other how to find Orion the Hunter.
Overlooking panoramic terrain, we ushered in the new day from the barracks as the sun rose. As the sky began to lighten we deepened our new connections and knowledge, venturing into the tunnels.
Starting with snorkelling, spotting spotties and snapper scuttling along the sea floor, we transitioned into our next activity; kayaking. Over the course of the camp, we were involved in many thought and action evoking activities, such as beach yoga, a working bee, a beach clean-up and many workshops.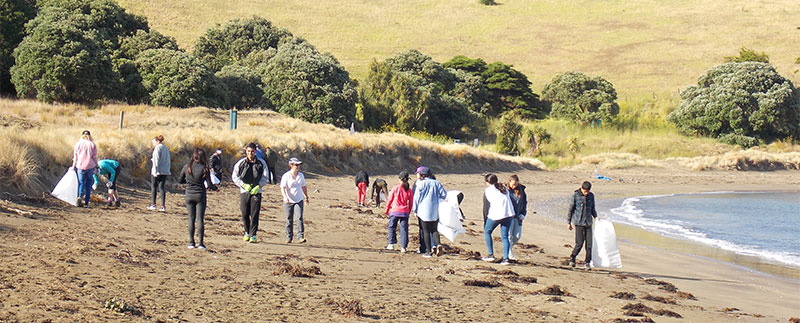 I personally felt that I connected the most with Sustainable Coastline's Beach Clean-up and Rochelle Constantine's talk on Bryde's Whales; as someone who is and was heavily involved in water sports, I spend a lot of time in the water, and before doing the beach clean-up on Motutapu I hadn't realised the full extent of the issue of littering and plastic. I had assumed that New Zealand was all clean and green, that rubbish washing up in such a large scale only happened in other countries. I was shocked at how wrong I was.
I don't know if anything could have prepared me for the most amazing experience of my life the following day, but all the activities leading up to our last day had changed my mindset and prepared me as much as possible.
I was shocked beyond awe at the sheer scale of dolphins and whales we saw. I had never seen dolphins up so close, and hadn't heard of anyone who had been on a successful Dolphin and Whale watching trip and was exhilarated by the experience. This trip gave me a new-found incentive to invest my time and efforts, making the environment, particularly the Hauraki Gulf, my priority. Each and every person on the boat had a uniquely different background, meaning lots of diverse opinions, and ways of action. I saw baby dolphins stay close to their mothers suckling and learning how to surf our wake. I made many new connections with the experts on the boat; inspired by the baby dolphins to seek new knowledge and opportunities.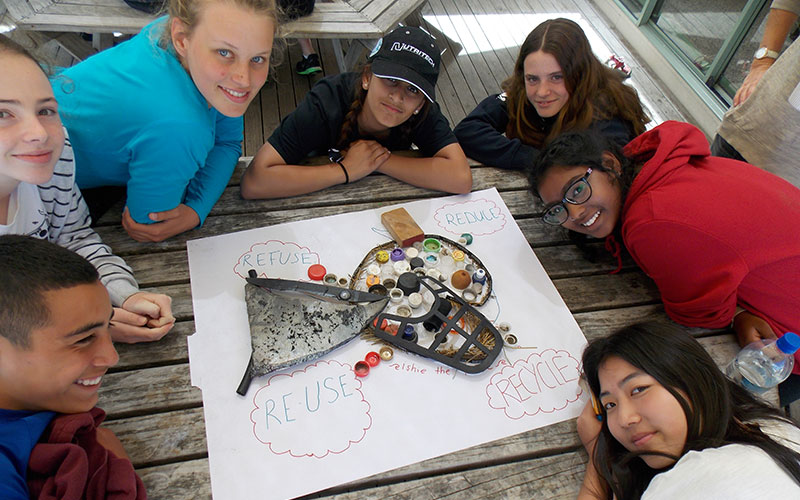 After finding my new incentive, a group of fellow MADsters and I planned to do something about the plastic washing up on our beaches; our campaign 'No More Tears' involves drain filters and monitoring economic and sustainability goals for factories which handle Mermaid Tears. From MAD Sustainability in 2016 to MAD Marine in 2017, I experienced personal growth, initially in attending MAD Sustainability, I was concerned about the environment, but I was more interested in gaining an experience for my CV, rather than making a difference, but over the course of the camp my mindset changed, but on returning to school, my ideas were shut down and I primarily gave up. Wanting to expand my horizons for the right reasons I returned to MAD Marine in 2017, and I got more out of the camp, and made, even more, connections, and came away with a campaign and a support network. MAD has changed me for the better as a person and given me an environmentally aware family.
Isobel Hillman is a 15 year old student at Westlake Girls High School and participated in the 2017 MAD (Make A Difference) Marine four-day hui run by Auckland Council at the Motutapu Education Camp in January. The MAD programmes are currently under review.