Ngati Manuhiri kaumatua Mook Hohneck gave the opening address at the 2017 Hauraki Gulf Marine Park Seminar which celebrated seabirds or nga manu o te moana.
"Yes, protect the environment, but uphold the cultural values as well, as they are strong and underpin the environment, the birds and everything they stand for."
– Mook Hohneck
He urged the audience of nearly 300 to learn more about the indigenous people of this country.
He explained how the mihi he had used to greet people and acknowledge the welcome from Ngati Whatua contained the names of three birds, embedded in korero for hundreds of years.
"I mentioned the Titi, or muttonbird, the Kaka and the Tukaeaea, the extinct sea eagle."
"If you are true about conservation you need to go to Te Reo, open up some books, learn stories and the myths."
Steven Renata, CEO of Māori owned technology company Kiwa Digital, is making it easier to do just that.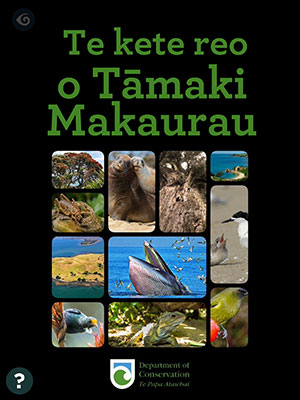 A new app, Te Kete o Tāmaki Makaurau, is providing a Māori lens on the places we love.
It helps users pronounce the names of places, animals, and plants in the Tamaki Makaurau/Auckland region in Te Reo Māori and was created by the Department of Conservation.
Steven, of Ngapuhi descent, says he was motivated to honour mana whenua and share local culture and language with manuhiri (national and international) and nature enthusiasts.
The app contains around 100 entries for place names, animals, and plants, as well as sections on pronunciation and common phrases you can use in either formal or informal settings.
It is free for phones and tablets and became New Zealand's highest downloaded book app during January 2017 with over 3,500 downloads to date.
Steven says users swipe to link text and audio, triggering pronunciation, explanations, and even the songs of featured birds.
"Listening to correct pronunciation is crucial to learning. As users become more fluent they can record themselves and get feedback from a language expert."
The app was developed collaboratively. The Department of Conservation provided information and imagery and Kiwa worked with iwi on Te Ao Māori content.
Steven also sees potential for tourism. "We think that operators want a point of difference and to do things correctly and we're seeing more and more visitors coming into the country wanting to hear about the distinctive Māori identity of Tāmaki Makaurau."
Te Kete Reo o Tāmaki Makaurau is available at Google Play, or the App Store .